Having always had an interest in how and why subliminal messages and music works, I came across the 'Subliminal MP3' site and decided to finally give them a try.  Upon joining the mailing list on the site, I was sent the first of three free subliminal MP3's –  the FIND HARMONY Subliminal MP3. I have written a full review for you  – Review Find Harmony Subliminal MP3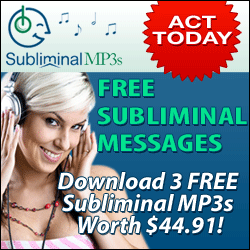 The FIND HARMONY Subliminal MP3 contains 5 tracks:  Fire, Ocean, Wind, Thunderstorm and Silent, with the following affirmations:
I am at harmony within myself  – I am at peace  –  I have a deep sense of peace and harmony  –  My mind and my body are relaxed  –  I am calm and stress free  –  I am both physically and mentally calm  –  I am bringing calm and harmony into my life  –  I am balanced and calm in all situations  –  I have a natural ability to relax  –  I am always in a state of harmony within my mind and body.
I downloaded the FIND HARMONY Subliminal MP3 onto my laptop and continued my work, not really noticing the sounds.  At first I thought it was odd to have a 'silent' track, but I soon realized how clever the concept was as it means I am able to play my FIND HARMONY Subliminal MP3 anywhere, without others being aware of what I was doing.
I've been playing the silent track on loop since and have found the inhabitants of the house to be calm, relaxed, at peace and happy on the whole –  teenage daughter included!
I've continued to play the silent FIND HARMONY subliminal MP3 I'm very happy with the FIND HARMONY Subliminal MP3 and will continue to use it.