With the use of subliminal music & sound we are able to access the deepest recesses of our minds. The human brain is hugely under-utilized.  According to Albert Einstein, it is estimated that the average human only uses about 5% of their mind and brain power, and there is a huge area of untapped potential. The human mind consists of both the 'conscious' and 'subconscious'.  The subconscious is where our true power lies.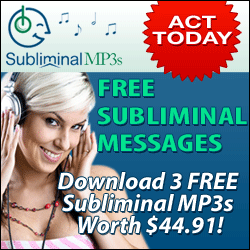 The use of subliminal music & sound (be it in MP3 or CD format) is simple and effective.  We are unable to consciously hear the embedded subliminal elements, and only hear the soothing sounds of the music that accompanies the subliminal music.
Our subconscious mind however, picks up and 'hears' the embedded affirmations and processes the information.  This in turn influences our conscious mind to react and act accordingly.  These affirmations and actions manifest as the actualization of our goals and/or desired outcome.
Subliminal music has the power to improve quality of life and has positive effects on a person's body and soul, mind and spirit.  This is achieved through positively influencing the subconscious mind, by ingraining affirmations of your desired outcomes.
While these affirmations and positive suggestions cannot be consciously heard, the subconscious mind is able to receive, understand and store them.  These affirmations, when repeated over time, are able to influence your attitudes and abilities.
Subliminal music & sound can be used to alter, improve or change just about any aspect of your life in which you want to make positive changes.  It is just a matter of selecting the appropriate subliminal music to suit your particular needs.
Subliminal music can be used to treat phobias as well as to quit smoking, lose weight, gain confidence, to stop procrastination, boost the immune system, beat negative habitual behaviour, to cure anxiety, to improve focus and concentration, to eliminate procrastination, to improve memory and recall, to motivate and inspire, and to attain self esteem and prosperity, to name but a few.
Any number of issues are able to be dealt with through the use of subliminal music. With the availability and accessibility of a vast range of subliminal music, we are able to attain abundance, balance, inner-peace and health in our lives, simply and effectively.
Subliminal music has powerful healing effects that encompass the body and soul, mind and spirit. With the most appropriate messages to suit the desired outcome.  Subliminal music can be a powerful tool to positively improve and change behaviour.