Review Find Harmony Subliminal MP3
I'd always been curious about subliminal messages and music, and had looked at a variety of different formats over time, but had never actually followed through with trying or buying any.  There was always something that held me back.  I came across the 'Subliminal MP3' site and felt compelled to finally give them a go.  Upon joining the mailing list on the site, I was sent the first of three free subliminal MP3's –  the FIND HARMONY Subliminal MP3.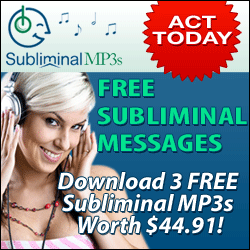 The website stated "Find harmony within yourself and a deeper level of peace with help from our soothing subliminal mp3s" and stated that the FIND HARMONY Subliminal MP3 contained positive affirmations such as:
I am at harmony within myself  – I am at peace  –  I have a deep sense of peace and harmony  –  My mind and my body are relaxed  –  I am calm and stress free  –  I am both physically and mentally calm  –  I am bringing calm and harmony into my life  –  I am balanced and calm in all situations  –  I have a natural ability to relax  –  I am always in a state of harmony within my mind and body.
There are five tracks on the album; Fire, Ocean, Wind, Thunderstorm and Silent.  This sat comfortably with me as I wasn't too interested in listening to music over and over, whereas the sounds of nature do not tend to distract me so much.
I downloaded the FIND HARMONY Subliminal MP3 onto my laptop and continued my work fairly oblivious to the sounds in quick time.  I really only took note when the silent track came on as I initially thought that the album had ended.
At first I thought having a 'silent' subliminal track was a little odd, but after reading the website's blurb about being able to listen (or rather hear subconsciously) the tracks in total privacy and without distraction, I realized how clever the concept truly was.  It means I can play my FIND HARMONY Subliminal MP3 in the house, office, outside, anywhere, without others even being aware of what I was doing.  It also meant that I could play the silent subliminal MP3 when my (sometimes highly-strung) teenage daughter was around  –  and I was curious to note any subtle (and/or not so subtle) changes to her demeanour.
I personally felt a distinct a sense of 'calmness' within a short time having set the tracks on 'loop' and promptly forgot they were even playing.  I kept them playing throughout my working day and felt quite composed, less frazzled, and quite simply – happy.
I've continued to play the silent FIND HARMONY subliminal MP3 during the evenings when the rest of the family is around (unbeknownst to them …) and have found the house to be calm, relaxed, at peace and happy on the whole –  teenage daughter included!
I've been playing the FIND HARMONY Subliminal MP3 daily for over a week now, and can honestly say that I have felt more at ease and less prone to emotional highs or lows.  I just feel very calm and centred no matter what the situation or circumstance.  For me, the FIND HARMONY Subliminal MP3 has worked wonders, and I highly recommend it to all, and I'm looking forward to trying the next free album, the STAY ALERT Subliminal MP3.
Please let me know how you are going with your Subliminal MP3 tracks below and to share your thoughts and successes with others that  may have purchased them or thinking about doing so. Start with the freebies and move forward from there.
Love and Light
Joanne